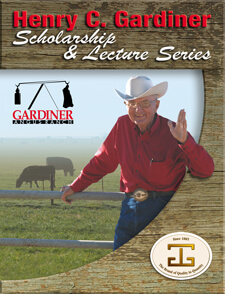 Overview
The Henry C. Gardiner Scholarship Fund at Kansas State University will endow a scholarship(s) awarded annually to a student enrolled in Animal Sciences & Industry. The scholarship(s) will be a tribute to the disciplined use of proven genetics, artificial insemination, embryo transfer, data collection and research employed since 1953 by Henry Gardiner to enhance genetic progress in beef cattle breeding. The first scholarships were awarded for the Fall 2012 semester. View announcement of the scholarship fund.
Apply for the Scholarship
Interested applicants must complete both the K-State scholarship form and the supplemental Henry C. Gardiner application form. K-State applications must be completed by February 1. Scholarship applications for the 2019-2020 school year are due February 1, 2019. Scholarship recipients for the 2018-2019 school year have been selected..
Lecture Series
The mission of the Henry C. Gardiner Global Food Systems Lecture Series at K-State is to provide education and science to the global food system. The series allows university students, faculty, staff and citizens to interact with leading U.S. and international food industry officials.
The next lecture will take place in the fall of 2019. It will be held at McCain Auditorium on the Kansas State University campus in Manhattan, Kansas. The lectures are free and open to the public. Learn more.
Sara Menker
Founder and CEO of Gro Intelligence (October 2018) "Why There Doesn't Need to Be a Global Food Crisis".
View presentation.
Jason Clay
World Wildlife Fund senior vice president for food and markets (Sept. 2017) "Feeding the World, Sustaining the Planet". View presentation.
Jay Famiglietti
University of California-Irvine (October 2016) "Water, Food and Energy: Interwoven Challenges to Sustainable Resource Management". View presentation.
Greg Page
Cargill executive chairman (October 2015) "Climate Change and the Future of Food Production". View presentation.
Robert Fraley
Monsanto executive president and chief technology officer and 2013 World Food Prize winner (January 2015) "2050: Agriculture's Role in Mitigating Global Challenges". View presentation.
Steve Hunt
Former CEO of U.S. Premium Beef (March 2013) "U.S. Premium Beef: A Beef Industry Success Story". View presentation.
How to Donate
Donations can be made online using a credit card here.
Thanks to the Donors
A sincere thank you from the entire Gardiner family to all GAR cooperators, allied producers, customers and friends for their contributions to the fund thus far. Get the list of donors.