The GAR Report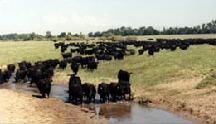 The GAR Report focuses on industry related topics and other articles of interest to the beef industry. If you have any industry related questions or specific issues that you would like to have addressed in The GAR Report, please submit them to us through our contact form or e-mail us directly.
Read the most recent issue of our own publication, The GAR Report »
Visit our archives to read past issues (through May 2009) »
Visit our archives to read past issues (May 2009 to present) »
---
Southern Carcass Improvement Project

2009 to 2012
A study to determine the carcass improvement that can be made in one generation using high carcass value Ang us bulls on typical Southern-origin beef cows representing typical bos indicus-influenced genetics most often found in Southern states. The SCIP addresses the beef industry's long-standing need for higher quality grades and better overall carcass traits in Southern U.S. packing plants.
Learn more.
---
A History of Genetic Evaluation at GAR
Spring 2011
A history of genetics evaluation at GAR and a look into the future using genomic information
---
Practical Application of DNA Technology--Gene Markers
Spring 2011
---
Gardiner Allied Producer Commitment
Learn more about the Gardiner Allied Producer Commitment »
---
Customer Connections Audio and Video Series
A question and answer series from Mark Gardiner »
---
Project Beef

Live Educational Webcast
"Genetic Defects—The Old, The new and The Misunderstood"
Featuring Dr. Sue DeNise, MMI Genomics, Inc. and Mark Gardiner, Gardiner Angus Ranch
Monday, February 16, 8:00 PM
Log on to www.kstate.tv/kla
Read the press release »