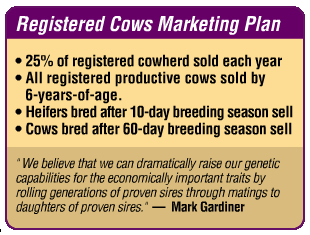 Gardiner Angus Ranch was one of the very first Angus herds to embrace database selection for cattle breeding. It has used the Angus Sire Evaluation as a benchmark for sire selection within the GAR herd, since the report's inception in 1980.
The GAR herds, both registered and commercial, represent 20 years of stacked pedigrees from progeny-proven bulls selected from the Sire Evaluation. GAR has been able to increase both its herd volume and quality with its stacked pedigrees and extensive embryo transfer program started in 1987.
GAR's database selection process has led to a breeding program where it breeds bulls to bulls—meaning, GAR uses proven bulls to breed to daughters of proven bulls. The sires it has used have thousands, if not tens of thousands, of progeny records. At Gardiner Angus, they believe that total A.I. with proven bulls is more reliable because they know exactly what they're using genetically with high accuracy sires.
"We firmly believe that using progeny-proven bulls is the best way to make genetic progress in the cattle business. The next best thing to proven A.I. sires are sons of these proven A.I. bulls. We have had a total A.I. breeding program since 1964. There is not an animal at GAR that is not A.I.-sired or the result of embryo transfer. Our program is not complex, but it is effective. Our cattle will continue to improve and we will continue to provide a large volume of cattle sired by the best proven bulls in the Angus breed."

"We hope to raise bulls that are able to contribute to the cattle industry as genetically superior sires and are used widely across the U.S. through artificial insemination. However, A.I. bulls are a by-product of our main business, which is producing bulls for the commercial cattle industry."

— Henry Gardiner