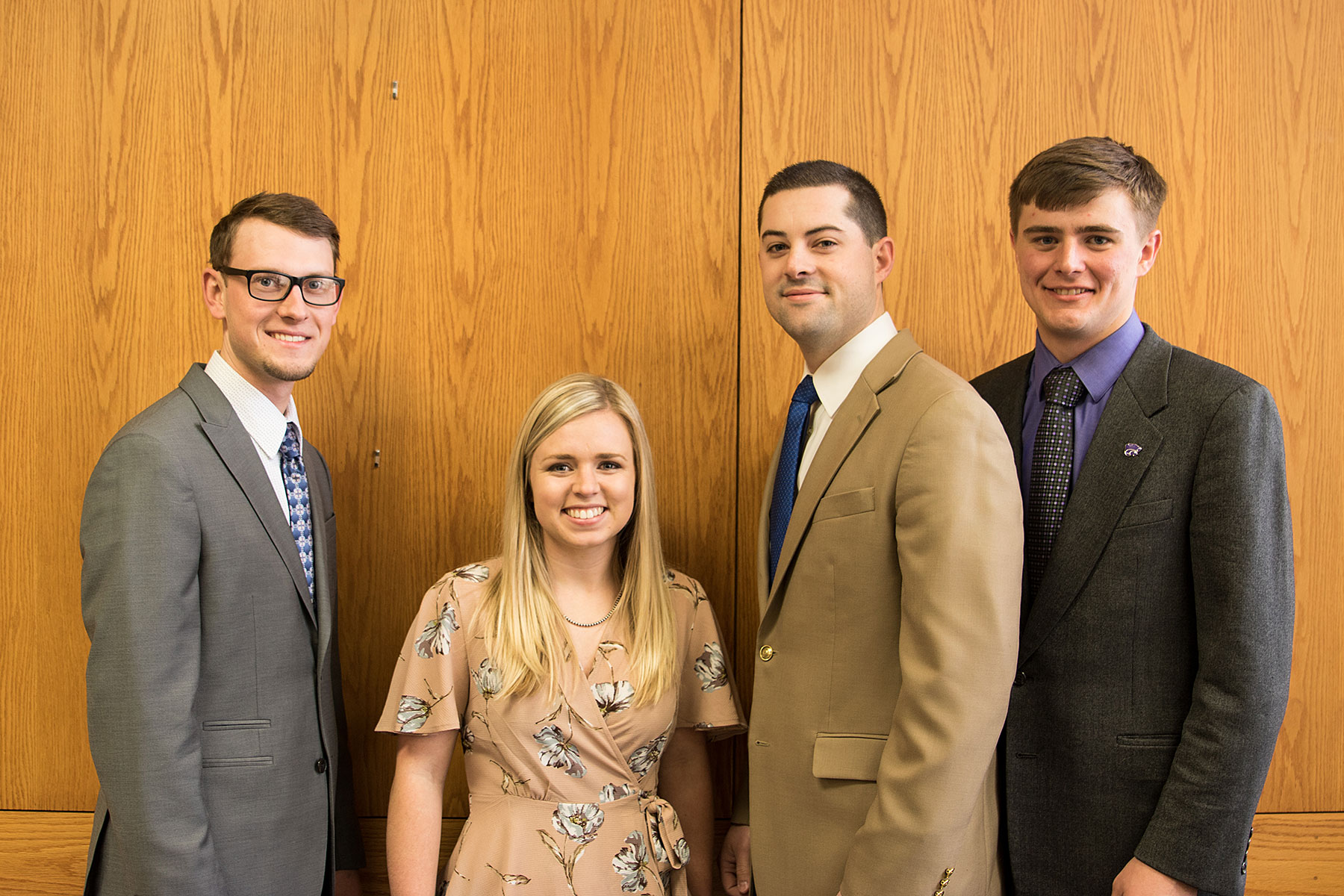 Henry C. Gardiner Scholarships were awarded to the following K-State students for the 2018-2019 school year: (L to R) Cameron Hayden, Whitney Whitaker, Wyatt Durst and Dean Klahr.
Henry C. Gardiner Scholarships Awarded to Four K-State Students with Diverse Interests
February 2018
Henry C. Gardiner scholarship applicants complete comprehensive applications and participate in a rigorous interview process conducted by a panel of Kansas State University faculty and industry leaders. Each student is an example of the best and brightest animal science and industry undergraduates enrolled at K-State University and already have industry relevant work history. The scholarship process creates an environment for qualified students to compete for elite undergraduate scholarships. Academic standing, community service, work ethic and future goals are taken into consideration.
Henry C. Gardiner Scholarships for the 2018-2019 school year have been awarded to Dean Klahr, Holton, Kan.; Whitney Whitaker, Atascadero, Calif.; Wyatt Durst, Morrowville, Kan.; and Cameron Hayden, Cassopolis, Mich.
Dean Klahr, already an astute young seedstock producer, is planning to continue on to graduate school, with the future goal of a post graduate degree in ag economics. Whitney Whitaker, a young agriculturist coming from a non-ag background, recognizes the importance of connecting food animal production to the consumer and is interested in continued studies in international agriculture. Wyatt Durst plans to complete his degree requirements and work in agriculture. Ultimately, he intends to return to his family's registered seedstock operation and continue as the next generation decision maker. Cameron Hayden also plans to pursue a graduate degree in beef cattle breeding and production. Cameron's interest in innovative technology relative to beef production will position him for a future in advancing genomic information.
Mark Gardiner offered these comments, "Walt Disney once said, 'Around here, we don't look backwards for very long. We keep moving forward, opening up new doors and doing new things, because we're curious. And, curiosity keeps leading us down new paths.' On behalf of the Gardiner family, I congratulate the 2018-19 scholarship winners. It's their intellect and curiosity that will lead us down new paths and help to ensure the future of food animal production in America."
Students classified as a rising-junior, junior or senior, either enrolled in or planning to enroll at Kansas State University with a major in Animal Science & Industry or closely related field may apply. Henry C. Gardiner Scholarships are awarded annually to K-State students meeting rigorous criteria and exhibiting a passion to improve the beef industry.
The Henry C. Gardiner Scholarship is possible through the generous contributions of Gardiner customers, friends and family continuing the legacy of Henry Gardiner. To date, 22 undergraduate students have received $100,000 in scholarships.
Henry Gardiner instilled in his family the willingness, ambition and discipline to achieve goals. He challenged the beef industry to use science to develop tools which made rapid genetic improvements possible. Henry readily incorporated technology and embraced change in his own business and was always willing to educate others about how they could improve profitability. His vision and leadership positioned Gardiner Angus Ranch (GAR) as a world leader in providing beef cattle genetics and shaping the beef industry today and in the future.
GAR is a family-owned and operated business that produces registered and commercial Angus cattle. The original ranch was homesteaded near Ashland, Kan., in 1885 by Henry Gardiner's grandfather. Today, the ranch encompasses more than 48,000 acres. The Gardiner operation sells approximately 2,600 bulls and 2,000 registered and commercial females each year.
GAR is a founding member of U.S. Premium Beef, the producer-owned limited liability corporation with minority ownership in National Beef, the nation's fourth largest beef processing company. By providing access to a proven value-added processing system through GAR delivery rights, customers have received more than $8.1 million in premiums and dividends.