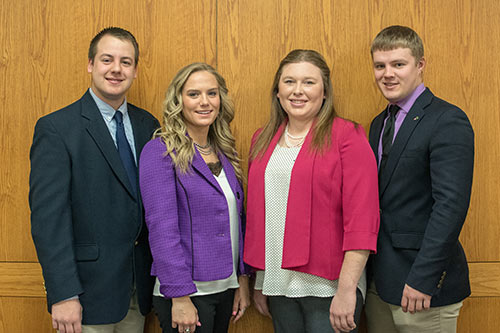 These four K-State students were awarded Henry C. Gardiner Scholarships for the 2019-2020 school year.
(L to R) Shane Newton, Adrian Austin, Keayla Harr and Cooper Imthurn
Henry C. Gardiner Scholarships Awarded to Elite K-State Animal Science & Industry Undergraduates
February 2019
Since 2012, the Henry C. Gardiner scholarship application process creates an environment for qualified students to compete for elite undergraduate scholarships. Academic standing, community service, work ethic and future goals are taken into consideration. A panel of K-State faculty and industry leaders review the applications. Finalists are selected and compete in a rigorous interview process. The students are the best and brightest agriculture undergraduates enrolled at K-State and express plans to continue careers in agriculture.
Henry C. Gardiner Scholarships for the 2019-2020 school year have been awarded to Shane Newton, Waverly, Kansas; Adrian Austin, Mt. Vernon, Illinois; Keayla Harr, Jeromesville, Ohio; and Cooper Imthurn, Maple Hill, Kansas.
Shane Newton has complimented academics with real world experience in registered seedstock, feedyard and research. Adrian Austin grew up on her family's farm in southern Illinois. Her goals include using her K-State experience to become a professional in ag communications. Keayla Harr plans to pursue a graduate degree in meat science, possibly conducting research and development. Cooper Imthurn represents the third generation of beef producers in Kansas. Cooper plans to return to the family's commercial cow-calf and backgrounding operation.
Mark Gardiner offered these comments, "Each year the selection committee reviews the applicants and interviews the finalists. We are invigorated by their curiosity, ambition and intellect. We hope the scholarships help to ease the financial burden of higher education but, more importantly, are confident these students have the ability to make a positive influence in agriculture."
Students classified as a rising-junior, junior or senior, either enrolled in or planning to enroll at Kansas State University with a major in Animal Science & Industry or closely related field may apply. Henry C. Gardiner Scholarships are awarded annually to K-State students meeting rigorous criteria and exhibiting a passion to improve the beef industry.
The Henry C. Gardiner Scholarship is possible through the generous contributions of Gardiner customers, friends and family continuing the legacy of Henry Gardiner. To date, 26 undergraduate students have received $120,000 in scholarships.
Henry Gardiner instilled in his family the willingness, ambition and discipline to achieve goals. He challenged the beef industry to use science to develop tools which make rapid genetic improvements possible. Henry readily incorporated technology and embraced change in his own business and was always willing to educate others about how they could improve profitability. His vision and leadership positioned Gardiner Angus Ranch (GAR) as a world leader in providing beef cattle genetics and shaping the beef industry today and in the future.
GAR is a family-owned ranching operation, producing registered and commercial Angus cattle. The original ranch was homesteaded near Ashland, Kansas, in 1885 by Henry Gardiner's grandfather. Today, the ranch encompasses more than 48,000 acres in Clark County. The Gardiner operation sells approximately 2,600 bulls and 3,000 registered and commercial females each year.
GAR is a founding member of U.S. Premium Beef, the producer-owned limited liability corporation with minority ownership in National Beef, the nation's fourth largest beef processing company. By providing access to a proven value-added processing system through GAR delivery rights, customers have received more than $9 million in premiums and dividends. Three generations of the Gardiners are proud alumni of Kansas State University.