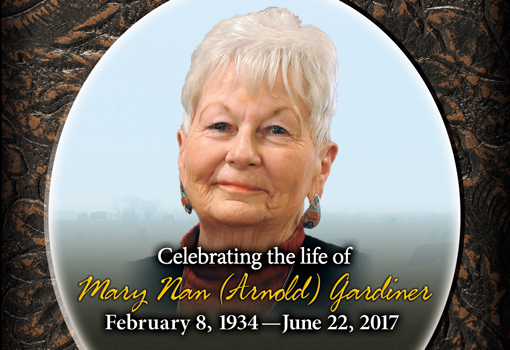 Celebrating the Life of Nan Gardiner
February 8, 1934 to June 22, 2017
Visitation with the family—Monday, June 26, 5 PM-7 PM, United Methodist Church, Ashland, Kansas
Service—Tuesday, June 27, 11 AM, United Methodist Church
Lunch will be served at the church after interment.
Memorials made in Nan's name may be made to the Ashland City Library, P.O. Box 397, Ashland, KS 67831.
Mary Nan Arnold was born in the bedroom of her parent's home on their small cattle and wheat farm near Rozel, in Pawnee County, Kansas on February 8, 1934, to Charles and Mary Arnold. Her earliest memories were taking care of chickens; from gathering eggs to "harvesting" the chickens for family meals. She decided early in life that she preferred cooking the chickens to harvesting them. She remembered helping on the farm and often cooking for all of her hungry family to refuel everyone for the tasks at hand. This actually became a lifelong labor of love for Nan. She cooked hundreds, if not thousands of meals for hungry family members, visitors, hired men and custom wheat cutters (who usually showed up for supper around 11:45 p.m.).
When it was time to go to grade school in 1939, she and her older brother, Edward, rode their ponies four miles to school, and then back home after school, carrying their lunch pail over their saddle horns. This "bussing" system had many advantages and adventures!
Upon graduation from Rozel High School in 1951, she enrolled at Fort Hays State University and graduated with a degree in Music Education in 1955. It was that fall when she moved to Clark County to teach music to 1st thru 8th grades at Ashland Elementary. Her annual salary was $3,200. In order to make a little extra money, she also gave private piano lessons to 24 students. She lived in the basement of the Ashcraft family home, because her parents felt when she moved to Ashland it wasn't "proper" to live alone!
Upon the urging of her friend, Pauline Baker, Nan went on a blind date with a handsome young rancher at the local soda fountain of the Ashcraft Drug Store on Main Street in Ashland. Henry and Nan were married on May 29, 1957 and remained united for over 57 years prior to Henry's death in 2015.
Henry and Nan raised three boys–Greg, Mark, and Garth. From Rozel, to Hays, to Ashland, she was always a product of the Kansas prairie. Life was not easy, but it was good.
Together they continued to build, what started from a failed homestead among other lost farms, into the operation today known as Gardiner Angus Ranch. With Henry and Nan's leadership, this operation was able to grow and support their three son's families in addition to five other families that help operate the ranch.
Henry and Nan had many adventures. One of the more memorable ones was collecting semen from Angus bulls in the barn, and then rushing to the kitchen table to "extend" the semen with egg yolk to be able to inseminate multiple cows. At times, these experiments did not go as planned! In 1964, Henry and Nan made a revolutionary decision to go to total artificial insemination without the use of clean up bulls. This meant that Henry artificially bred every female on the ranch. The young boys quickly became the heat detectors to identify which females to breed. The family would work from mid-November to mid-January breeding cows. Thanksgiving and Christmas meals were special as everyone got up early to feed and breed, have lunch, and "get back out there" to feed and breed. To date, not much has changed. These days filled with work were actually labors of love. They all were working together and doing their job. Nan cooking, Henry breeding cows, and the boys feeding and gathering cows. This pattern was really the same on a year-round basis whether it was breeding, calving, farming, wheat harvest, or putting up hay. Again, not much has changed.
Techniques that were developed on the ranch were often the topics in many talks given by Henry, and accompanied by Nan, across America and around the world. Henry once came up with a speech topic of "Hire 'Em and Fire 'Em". Henry would mention all the things that DID work within the operation ("Hire 'Em"), and Nan came up with the ("Fire 'Em") for all of his efforts that DIDN'T work! He used "Hire 'Em" and "Fire 'Em" to educate beef producers everywhere. The truth of the matter was that Henry was a dreamer and Nan was a pragmatist. They were a great team.
In the early 1980s, Nan continued with her love of music and enrolled in an organ performance class at St. Mary of The Plains College in Dodge City. This weekly class would ultimately lead to her love of playing the pipe organ for many different organ recitals in the cathedral. She directed the youth choir and chancel choir at the Ashland United Methodist Church, as well as playing the organ, for nearly 50 years. Although she didn't care for the music up too loud when riding in a vehicle with one of her sons, there was NO limit to how loud the pipe organ volume could go when this feisty redhead played "A Mighty Fortress Is Our God"!
And, "feisty" she was! Although her given name was "Mary Nan", there were only a few people who could get away with calling her this. She would "politely" tell a person on the other end of the phone who asked to speak to "Mary Nan", that "my name is NAN!" You see, that fiery redhead wasn't one to be messed with!
Nan's greatest joy was her family. She was very proud of Henry and their three sons. While she was never afraid to use "plain Kansas talk" to inform all how we could work to improve, her constructive criticism came from the desire to make all around her better. She raised her family to be the best that they could be. Were they, or are they perfect? Of course not. However, they can all hear "Nanny" in their minds knowing they better "snap to it" and work to get better!
At family gatherings, she cherished sitting down in her chair at the end of the table during a meal, smiling down to the other end of the table where Henry would sit, both of them surrounded by their family, and with a twinkle in her eye ask, "Dear, would you like to return thanks?"
Nan Gardiner peacefully went to her eternal home in Heaven on Thursday June 22, 2017 at 11:42 p.m. at the Ashland Health Care Long Term Health Care Unit in Ashland, Kansas. Nan was preceded in death by her parents Charles and Mary Arnold, a brother Loren W. Arnold, and her husband Henry C. Gardiner. She is survived by her three sons and their wives, Greg Arnold Gardiner (Debbie Dreiski), Mark Ralph Gardiner (Eva Stumpff), and Garth Henry Gardiner (Amanda Maxwell); Nine grandchildren, Grant Charles Gardiner (Megan Cunningham), Brittany Cheyenne Gardiner, Sierra Lurae Gardiner, Cole Henry Gardiner, Ransom Mark Gardiner, Quanah Clay Gardiner, Greysen Maxwell Gardiner, Gage Monroe Gardiner and Grace Elizabeth Gardiner; an older brother Edward Arnold, sisters-in-law Alice Hammerschmidt Arnold and Helen Gardiner Arnold, as well as a host of nieces and nephews, and countless friends.
Henry Gardiner once asked, "When in the life's cycle does a wheat plant die?" He answered with, "It does not die but merely changes form. It changes from a single green shoot to a vigorously stooled, many leaved plant, to a tall, slender, many headed, golden grained, mature plant. However, that is not the end, for there is still life in this plant that lives on for generations." With this example for their family and community, Henry and Nan Gardiner's legacy will live on for many, many generations.