Thanks to Steve Hunt as First Presenter of HCG Lecture at K-State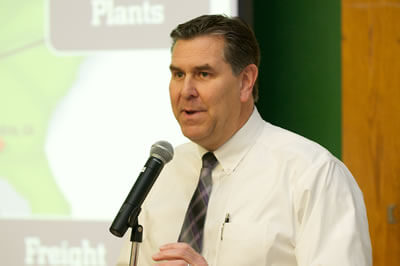 Steve Hunt, former CEO of U.S. Premium Beef, and now Advisor to
U.S. Premium Beef, presented the first Henry C. Gardiner Lecture
at K-State in March 2013.
View video of Steve Hunt's presentation
Gardiner Angus Ranch wants to offer our sincere thanks to Steve Hunt for presenting the first Henry C. Gardiner Lecture. Steve's presentation was a fitting discussion and illustration of Dad's vision for the beef industry-a value-based system that rewards a producer for a better product. We also want to thank Emilie Fink, K-State Foundation; Dr. Ken Odde and Dr. Dave Nichols, Dept. of Animal Science; Dr. Larry Corah, Certified Angus Beef and all the many folks at K-State who helped make the lecture a success. Above all, we want to thank every customer, friend and fellow beef producer that made financial contributions to see this lecture come to fruition.
---
K-State to Host 100th Annual Cattlemen's Day March 1
January 29, 2013
Kansas State University's Cattlemen's Day always has numerous events associated with it, but this year's 100th Annual Cattlemen's Day on March 1 will be special in several ways.
"We're kicking off the Henry C. Gardiner Lectureship with inaugural speaker Steve Hunt of U.S. Premium Beef," said Ken Odde, head of K-State's Department of Animal Sciences and Industry. "Henry Gardiner is a visionary leader in beef cattle genetics. We are pleased to honor him by launching this lecture series in his name."
Gardiner, widely considered a pioneer in beef genetics, is founder of Gardiner Angus Ranch in Ashland, Kan.
Learn more about the Henry C. Gardiner Lecture Series & Scholarship.