Gardiner Angus Ranch Announces the Passing of Legendary Sire, GAR Prophet
November 9, 2022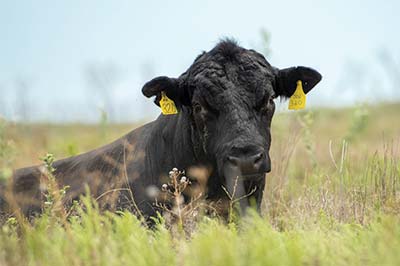 Gardiner Angus Ranch announces the passing of GAR Prophet, one of the most iconic sires in modern Angus history. Prophet sired a legacy of progeny that continue to excel for calving ease, growth, maternal function and carcass quality. GAR Prophet was one of Select Sires' high use sires for over a decade, selling nearly 179,000 units of semen.
Some of the first steers harvested out of Prophet were out of "mongrel" commercial females fed at K-State University Ag Research Center, Hays, Kansas. Eleven out of 12 steers graded USDA Prime. To date, more than 300 actual carcass records are included in the American Angus Association's database and Prophet retains a +1.4 marbling EPD. Asked to comment, Brian House, Vice President, Beef Program and Product Manager said, "Mark [Gardiner] told us, 'this will be the best Bextor son to ever sell at GAR.' He was correct. Prophet helped us prove we could reach Prime in one generation by using a high marbling bull."
In 2015, a heifer calf, GAR Prophet 2685, was born on the ranch. Today, she is the dam of GAR Transcendent, one of the most promising young AI sires in service today. While carcass quality improvement will be a lasting legacy for Prophet, his most important contribution may be in the daughters and granddaughters in service throughout registered and commercial Angus herds.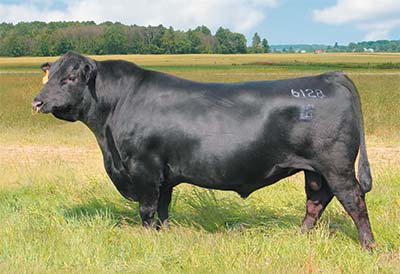 GAR hosts tour groups throughout the year. After his retirement at Select Sires, Prophet returned to the ranch and impressed many tour groups, delighted to see a sire whose legacy continues. Mark commented, "Sires like Prophet are uncommon in the beef industry. As a calf, he was calm and phenotypically excellent. After receiving his genomic information, we knew he had the genetic ability to sire industry relevant cattle across the supply chain. Prophet is in the pedigrees of many of the important bulls of the Angus breed today. Many of his 3,577 daughters are still working in herds in the U.S. He was a sire that helped advance our industry's goal of beef cattle breed improvement around the world. Today, as a 14-year-old Angus sire, Prophet still ranks in the top 2% of the Angus breed for marbling and top 15% for calving ease. We were fortunate to bring him back to the ranch and allow him to enjoy retirement."