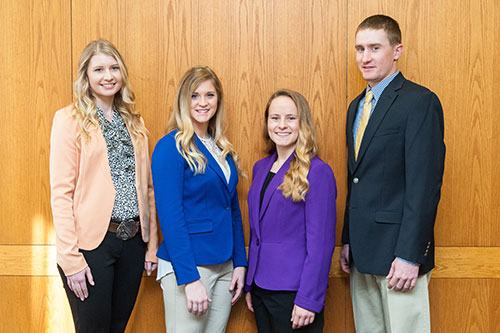 The 2017-2018 Henry C. Gardiner scholarship winners are (L to R) Shelby Teague, Fort Morgan, Colo.;
Brooke Jensen, Courtland, Kan.; MaRyka Smith, Hoyt, Kan.; and Callahan Grund, Wallace, Kan.
Four Henry C. Gardiner Elite Scholars Announced for 2017-2018
March 1, 2017
Since the first scholarships were awarded in 2012, Henry C. Gardiner scholarship applicants represent the best and brightest animal science and industry undergraduates enrolled at Kansas State University. The program creates a competitive environment for qualified students to vie for elite undergraduate scholarships. In addition to the applications, students must complete a rigorous interview conducted by a panel of Kansas State faculty and industry leaders. Academic standing, community service, work ethic and future goals are taken into consideration.
Henry C. Gardiner Scholarship recipients for the 2017-2018 school year are Shelby Teague, Fort Morgan, Colo.; Brooke Jensen, Courtland, Kan.; MaRyka Smith, Hoyt, Kan.; and Callahan Grund, Wallace, Kan.
Each year, the scholarship recipients bring unique perspective to the selection process. Shelby Teague is a great example. While some perceive too many obstacles to enter ranching and beef production today, Shelby sees opportunity. Shelby has remained focused throughout her educational endeavors and plans to return as a solid partner to her family's diverse production agriculture operation.
Brooke Jensen has used her time at K-State wisely and sought summer internships far outside her comfort zone. Raised in her family's registered and commercial Hereford operation, Brooke has been involved in junior Hereford activities, including serving on the National Junior Hereford Association board of directors. She is looking forward to graduation and a career in agribusiness.
MaRyka Smith is an Animal Science, pre-vet major with considerable equine experience. As a result of her first research project, MaRyka became involved in the wild mustang project in California. She continues to do meaningful research as a lab assistant in the K-State College of Vet Medicine studying Rift Valley Fever, a disease affecting cattle and sheep. Her project has been accepted for presentation at the Experimental Biology Conference in 2017. MaRyka will enter vet school in the fall of 2017.
Callahan Grund is an animal science major with a business emphasis. Having been raised on his family's seedstock and commercial cow-calf operation, Grund has an entrepreneurial goal to start an agribusiness relative to the cattle feeding sector. He has a clear understanding of building a professional network.
Mark Gardiner offered these comments, "In 2012, our goal as a family, was to offer financial support to bright, curious, ambitious K-State agriculturists. Now five years later, the interview and selection process is one of the highlights of the year for me personally. It's clear that when we all look alike and think alike, we become conventional. We lose our ability to think critically and challenge ourselves outside our comfort zone. The 2017 Henry Gardiner Scholarship recipients are examples of wise beyond their years, critical thinkers that will take advantage of opportunities to move agribusiness forward."
Students classified as a rising-junior, junior or senior, either enrolled in or planning to enroll at Kansas State University with a major in Animal Science & Industry or closely related field may apply. Henry C. Gardiner Scholarships are awarded annually to K-State students meeting rigorous criteria and exhibiting a passion to improve the beef industry.
The Henry C. Gardiner Scholarship is possible through the generous contributions of Gardiner customers, friends and family continuing the legacy of Henry Gardiner. To date, 18 undergraduate students have received $80,000 in scholarships.
Henry Gardiner instilled in his family the willingness, ambition and discipline to achieve goals. He challenged the beef industry to use science to develop tools which made rapid genetic improvements possible. Henry readily incorporated technology and embraced change into his own business and was always willing to educate others about how they could do the same things to improve profitability. His vision and leadership positioned Gardiner Angus Ranch (GAR) as a world leader in providing beef cattle genetics and shaping the beef industry today and in the future.
GAR is a family-owned and operated business that produces registered and commercial Angus cattle. The original ranch was homesteaded near Ashland, Kan., in 1885 by Henry Gardiner's grandfather. Today, the ranch encompasses more than 46,000 acres. The Gardiner operation sells approximately 2,600 bulls and 2,000 registered and commercial females a year.
GAR is a founding member of U.S. Premium Beef, the producer-owned limited liability corporation with minority ownership in National Beef, the nation's fourth largest beef processing company. By providing access to a proven value-added processing system through GAR delivery rights, customers have received more than $6.93 million in premiums and dividends.