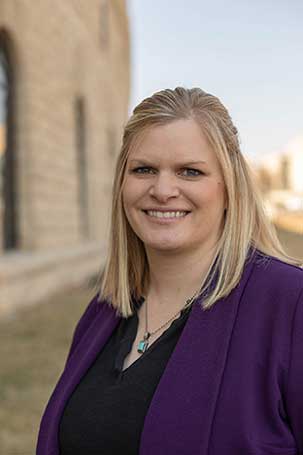 Cassie Jones Selected to Receive the Mark & Eva Gardiner Innovation & Excellence Award at K-State
May 23, 2023
Dr. Cassie Jones, K-State professor and the teaching coordinator in the Department of Animal Sciences and Industry (ASI), has been selected to receive the 2023 Mark and Eva Gardiner Innovation and Excellence Faculty Award.
Dr. Jones joined the K-State faculty in 2012. She earned bachelor's and master's degrees in swine nutrition at Kansas State University and the doctoral degree in nutritional sciences at Iowa State University. Currently, Dr. Jones coordinates the animal science undergraduate teaching program, which is the largest major on campus.
She serves as an academic advisor and teaches freshman orientation, as well as animal nutrition courses to undergraduate and graduate students. She is a regular resource to government and industry partners as they build science-based policy and implement best practices for producing animal feed and pet food that is nutritionally wholesome and safe.
In addition to her contributions in ASI, Dr. Jones leads a well funded and highly productive research program that advances discovery in the field of feed safety each year and produces future animal scientists that contribute across the spectrum of academics and industry. Through her leadership as teaching coordinator for ASI (since June 2021), she is continually looking at approaches to improve the university's academic programs while guiding the program in its endeavors.
Dr. Jones leads scholarship efforts in ASI, having generated more than $700,000 in grants and gifts and publishing four peer reviewed manuscripts.
Dr. Jones is also the recipient of the 2022 U.S. Department of Agriculture Excellence in College and University Regional Teaching Award in Food and Agricultural Sciences, and the 2021 Mortar Board Outstanding Faculty Award.
She and her husband, Spencer, have three children, Ty, Hayden, and Hadley, and raise Angus cattle in Wabaunsee County.
"We are grateful to Mark and Eva for recognizing Cassie with this award. She is one of the most productive faculty members in the department with a tremendous capacity to positively impact our teaching, research and extension missions in ASI," said Ernie Minton, dean of K-State's College of Agriculture and director of K-State Research and Extension.
In announcing the award, Mark Gardiner said, "As K-State alums and generational beef producers, our family is profoundly aware of the value of our education at the nation's first land grant university. If American agriculture continues to be the world's beacon to address global food insecurity through agriculture and meat protein production, faculty members like Dr. Cassie Jones will lead us to those outcomes. Eva and I are grateful for her commitment to excellence at K-State."