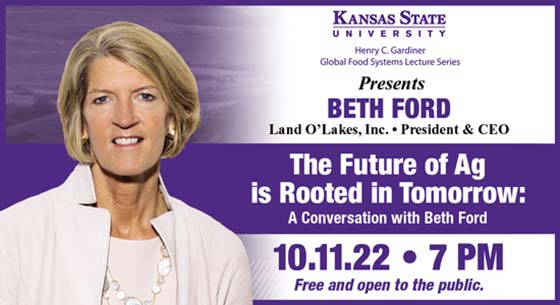 Land O'Lakes President, CEO to Speak October 11 at K-State
August 29, 2022
Beth Ford, the president and chief executive officer of Land O'Lakes, Inc. and a staunch advocate for connecting consumers to the people who grow their food, will be the featured speaker for the Henry C. Gardiner Global Food Systems lecture Oct. 11 at Kansas State University.
Ford will appear at K-State as part of a chat moderated by Greg Henderson, the editorial director for Drovers at Farm Journal Media. Their talk is titled, The Future of Ag is Rooted in Tomorrow: A Conversation with Beth Ford.
The Oct. 11 talk begins at 7 p.m. in K-State's McCain Auditorium. Admission is free.
Ford has been president and CEO of Land O'Lakes—a Fortune 200 food production and agribusiness company—since 2018. Her 35-year career spans six industries at seven companies.
Since joining Land O'Lakes in 2011, she has held a variety of roles leading the company's farmer-to-fork business offerings. She has also helped establish the American Connection Project, a Land O'Lakes effort to bridge the digital divide common to many rural areas.
Ford has previously been recognized by Fortune Magazine as one of the World's 50 Greatest Leaders and Most Powerful Women, and named to Fast Company's Best Leaders list. She was featured recently in the New York Times' Corner Office column, and profiled in a 60 Minutes segment titled The Farmers Advocate.
Kansas State University established the Henry C. Gardiner Global Food Systems lecture series to provide science-based education about world food issues. The series allows students, faculty, staff and Kansas citizens to interact with U.S. and international food industry leaders on topics of current interest.
The lecture series is funded by the Gardiner family of Ashland, Kansas. Henry C. Gardiner, who passed away just days before the first lecture in 2015, was known as a visionary leader who dedicated his career to improving the beef industry through science and technology.